The Lewington's Customer Story
Our Customer Stories series of blogs look at how we've helped some of our clients create the bespoke staircase they've always wanted.
Su and David Lewington wanted a sleek and minimal, modern staircase in keeping with their 1970's home. This project was unusual in that it was both a staircase renovation and renewal. The top section of the staircase was being renovated, while the bottom half involved a new staircase design and layout. Here's how we helped them create a stunning, central focal point in their home.
Creating openness and dealing with quirks
Replacing a dated, open-tread staircase in dark wood, Su and David wanted to bring their home up-to-date with a new, modern look and feel. It was important that they retained a feeling of openness in their hallway, and the new design also needed to address some of the old staircase's quirks.
David explains, "There was a large gap to the side of the staircase on the right hand side, which was a waste of space. We wanted the new bespoke staircase design to deal with this. We also didn't want large posts incorporated into the design of the staircase."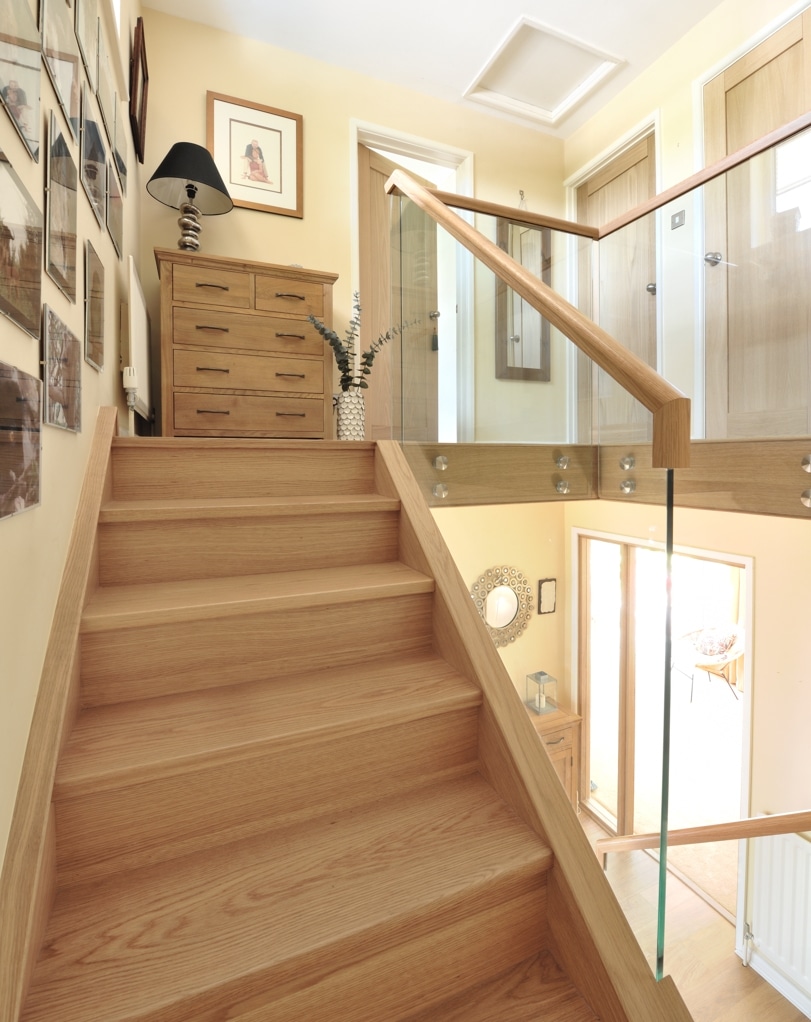 To achieve this, we opted for glass to give the staircase a contemporary look that was light and airy. A slim handrail simply tapers the end of the glass instead of being continued to floor level, giving the effect of it floating on air.

The whole staircase 'swept' around the turn in the stairs rather than having an awkward 'jump' to the next level, which would have created a large gap in the steps. This added to the seamless flow of the design.
A perfect combination
In terms of materials, a modern mix of wood, metal and glass gave the whole staircase a sleek, contemporary look. Combining oak wooden treads and handrails with clear glass panels and stainless steel bolts, the staircase managed to be practical, beautiful, functional and eye-catching.
Rather than simply being an access point to the next floor, the staircase now provides a key design feature in the Lewington's home.
Understanding a customer's needs
Finding Jarrods by searching online, the Lewingtons were impressed by the service from Jarrods from the outset.
"They seemed to understand exactly what we wanted from the word go. Other staircase companies couldn't successfully translate our ideas. We didn't want to get rid of a storage cupboard next to the staircase and Jarrods couldn't see why we needed to. They provided a design that worked around it but at the same time, encompassed it. Their flexibility in the design scheme meant we knew we could realise the new staircase we wanted with minimal fuss."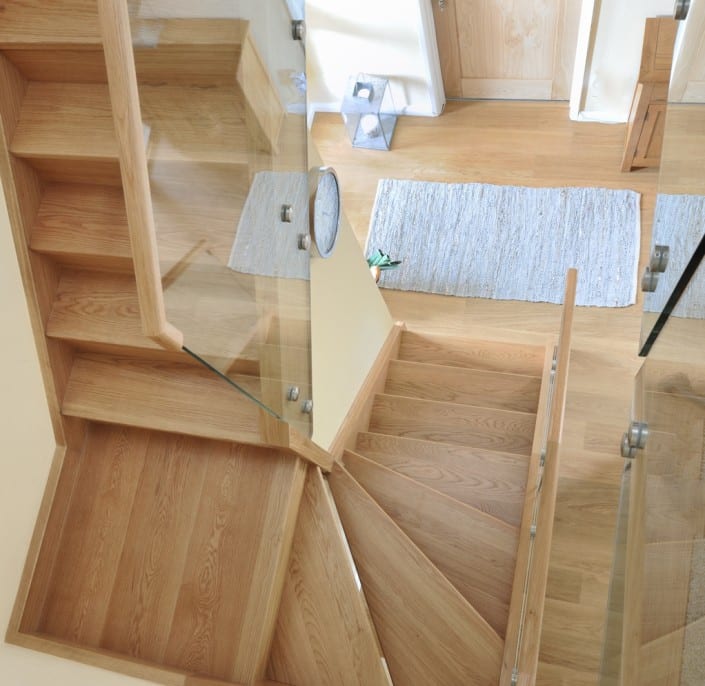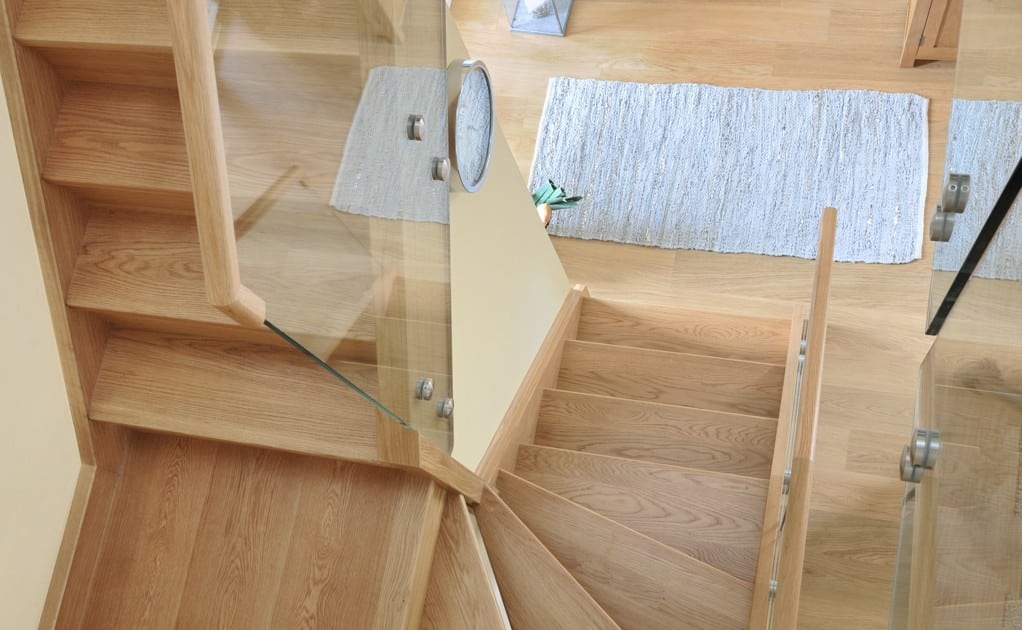 The Jarrods Approach in action
Su and David also explain how the design, surveying and checklist process was quick, smooth and fuss-free.
"Design-wise we were included fully in this process. We now feel that we have the staircase we wanted rather than one which a staircase design company told us we should have. Jarrods were also the most reasonably priced for the work involved, which we felt gave us amazing value."
As if that glowing recommendation wasn't enough, the Lewington's had even more to say…
"The first thing we noticed about the service we received from Jarrods was their punctuality. If they said they would be here at 8am, they were in fact here 15 minutes early. If they said they would be here on a given day, they were. From the outset, this made a huge difference to our feelings towards the installation team as we had complete trust.
"This was an extension of the great design service we'd already had and experienced right through to the completion of the project. When the installation team knew that we were going to finish off laying the flooring in the hallway, they wouldn't leave until they knew we were able to do this. They were adamant that they wouldn't go until they knew that we didn't need any further help."
While the Lewingtons expected a huge disruption that lasted weeks, it was nothing like that and the installation itself took just two days.
"We were so pleased to have the work completed in 48 hours!"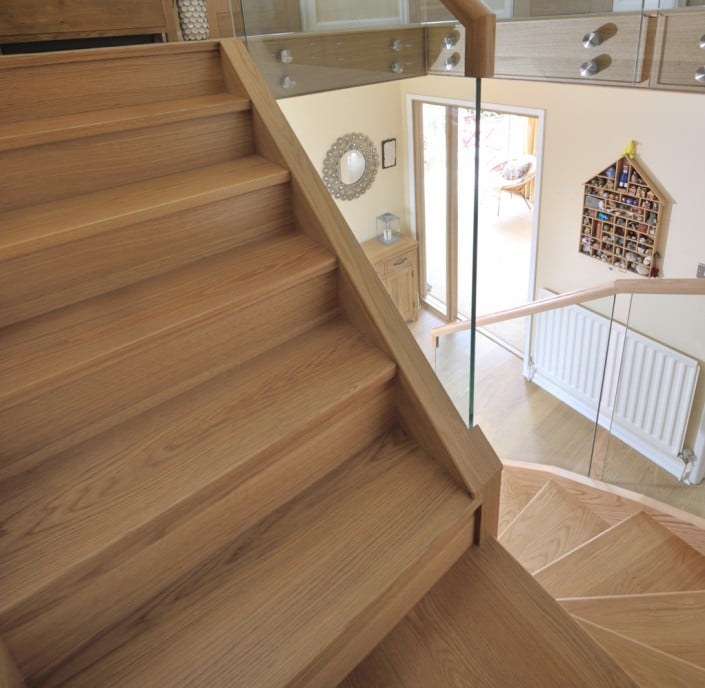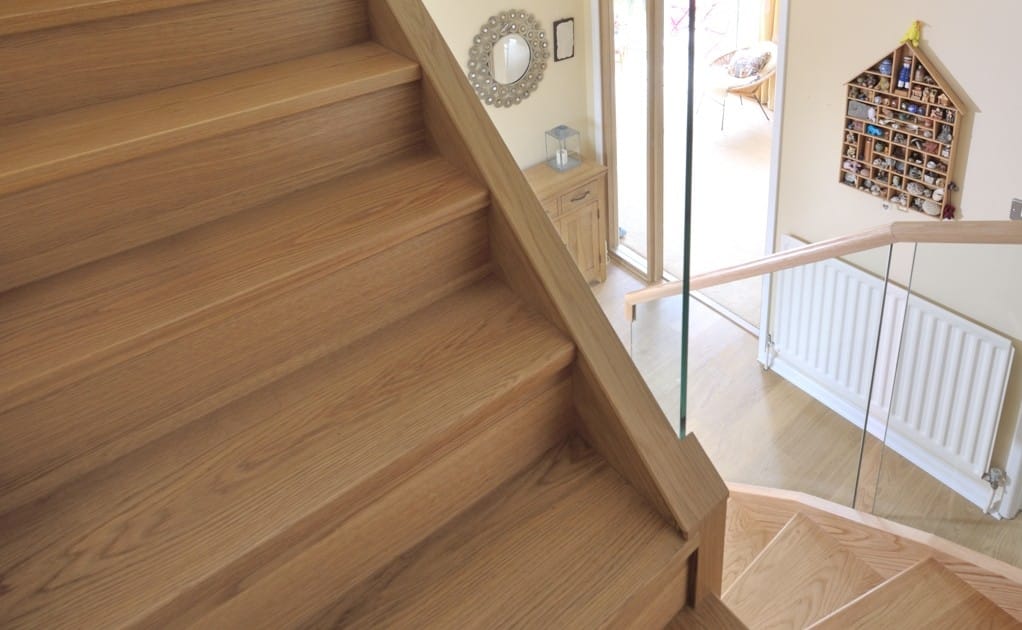 Some final thoughts
To be honest, we didn't think that Su and David would have anything more to say, having been so fantastically complimentary.
We're hugely flattered to say that they did…
"Jarrods have a more personal and flexible approach to their customer service, design process and installation, which was key for us. This starts from the moment you make that first enquiry right through to the work being completed. They deliver what they say they will, when they say they will. You simply cannot ask for more than that, and I wouldn't hesitate to recommend them in an instant."
If you'd like to become part of a customer story, get in touch with us today.