New Staircases
Creating a new staircase within your home allows the design to have a certain flair and unique charm that can be restricted with a renovation project. Whether you want to provide a contrast to a rustic property or match the design of a modern self-build, our truly bespoke, design-driven staircases at Jarrods can become the focal point of your home. We aim to create light, space and an inspiring first impression with our designs.
The majority of projects are completed in just 24 hours, contact us now for more information on your new staircase design.
What are the designs available when looking at new staircases?
At Jarrods, as a leader in bespoke staircase design and renovation, we ensure every new staircase is perfectly tailored to your home and your needs. We ensure to turn your old staircase into the new staircase of your dreams.
Our team of experts will work closely with you every step of the way, ensuring you get the absolute most from your budget. We are fully compliant with building regulations and can offer our advice if you are facing any issues.
A new staircase can completely revamp your home, however, with so many options available it can often be difficult to decide on what exactly to opt for. Whether it be a polished metal staircase, a compact functional spiral staircase or even a standard straight staircase, the options can be endless.
We will run through some of the options available to you, offering our ideas of turning your old or existing staircase into a bespoke brand-new staircase.
Enquire Now
Our Recent Work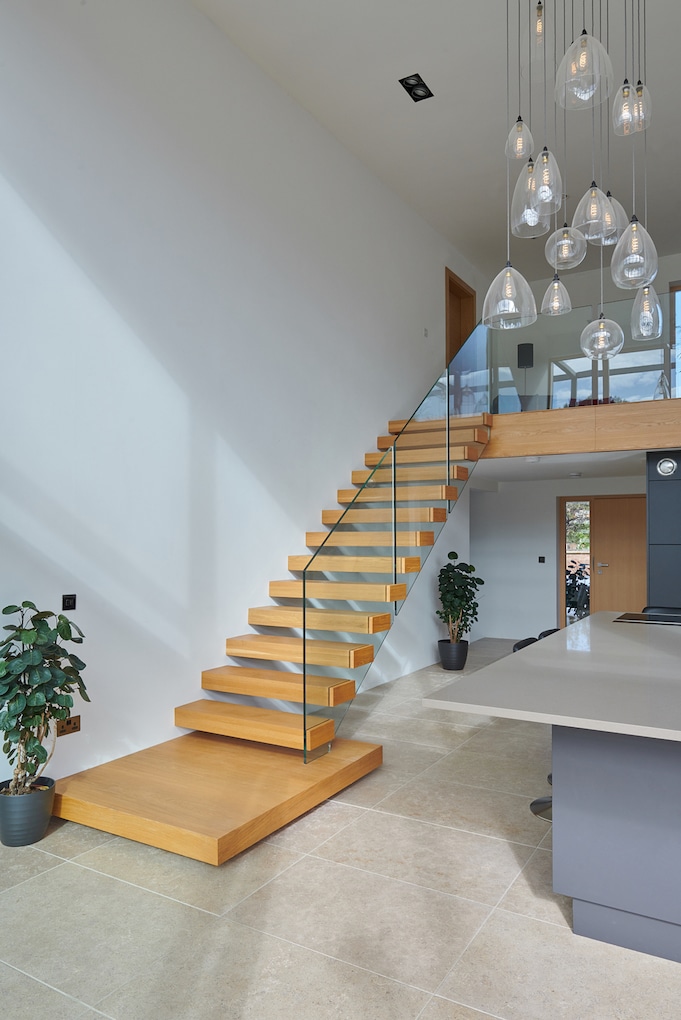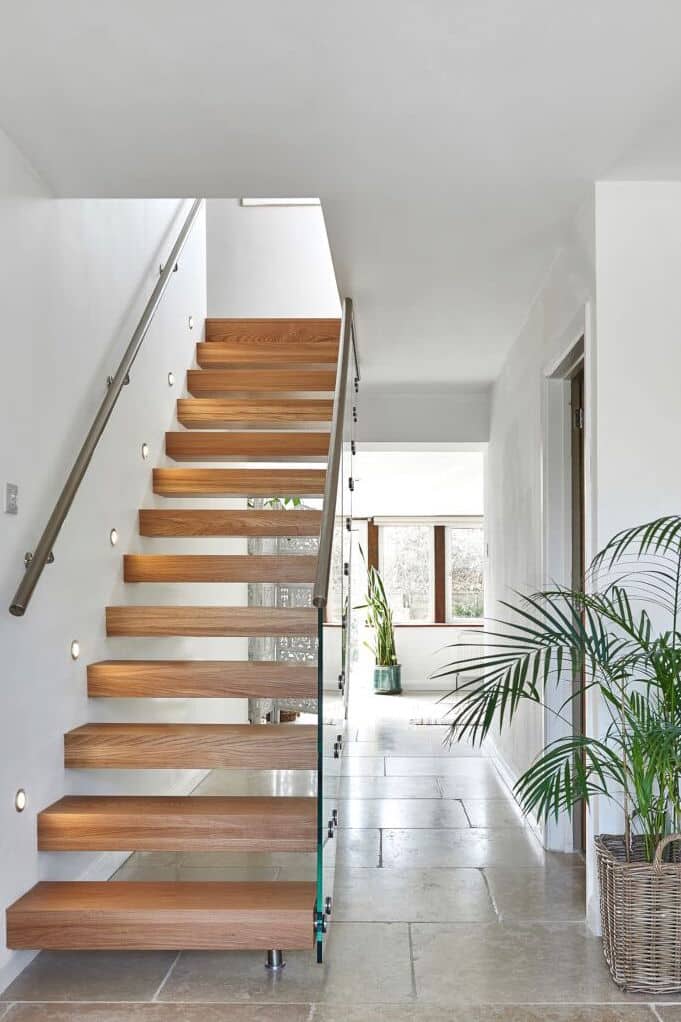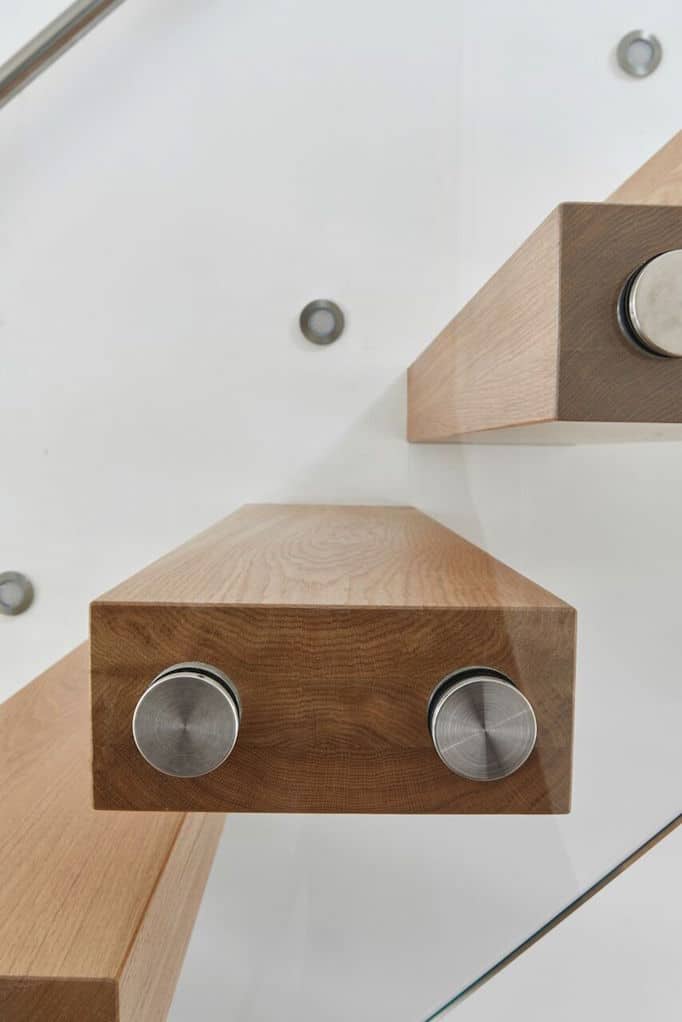 ---
A BLANK CANVAS
Fitting a brand new staircase from scratch, rather than having a staircase renovation, is essentially like working with a blank canvas. The possibilities are endless, from floating steps to traditional wooden designs.
You're no longer limited to whether it remains open or closed, which way it faces or even where the staircase sits. If you have a picture in your mind of what your perfect staircase looks like, we can create it.
DESIGN FREEDOM
Creating a brand-new bespoke staircase gives you the freedom to design something that meets the needs of the space it features in. Unlike a renovation, it allows you to control the smallest details, like gaps between the risers or using a mixture of materials.
Whether you choose a wood, glass or metal staircase, you can mix and match styles and finishes to complement or contrast with your décor, depending on the look that you want to achieve.
INNOVATION
If you want to create more light and space, you can position your new staircase to do just that. Rather than walking into the house and seeing the back of a staircase, you can turn it around so that it becomes the focal point of your home. You can even move it to a completely different part of the house.
It's also possible to combine a renovation and renewal in one project, we have worked on staircases where the higher section was renovated whilst the lower section became a completely new design and layout.
Whatever you have in mind, there is plenty of scope for innovative design within our company.
Floating Staircase Design
A floating staircase is a style of cantilevered stair, that is often installed during the early stages of a new build or house renovation. A floating staircase is usually installed before the roof, providing a safe means of access while construction is ongoing.
This style of staircase features a steel skeleton and temporary balustrade, which is then replaced with solid box cantilevered treads and wrought iron or glass balustrades following the completion of the plasterboard, skimming and decoration. This approach helps to minimise damage to the new staircase during the construction process.
Why choose a floating staircase?
There are many benefits of opting for a floating staircase design, mainly that they serve as an amazing feature inside your home, setting the style and tone for the rest of your house. A floating staircase offers the illusion of your stairs floating in mid-air, with no visible means of support underneath the treads, opening up your home and letting light in. A floating staircase can be applied to varying styles such as a U-shaped staircase or a standard straight staircase.
Kubos – an alternative to floating staircases?
At Jarrods, we are also able to offer our unique Kubos staircase design. A Kubos design offers many similarities with that of a floating staircase, however, also remains a much more economical alternative.
Kubos are more economical due to the omission of structural support stainless steel set into the concrete wall. Another difference being our Kubos design has no open section between the treads, whereas our floating staircases do. If your staircase cost is of particular concern to you, our Kubos design may be the perfect solution when opting for a replacement staircase.
Glass Staircases
When it comes to new staircase renovations, Jarrods are proud to offer bespoke staircases, whatever your desired material.
Some of our most popular designs to date are glass staircases. Glass staircases can offer a lot of versatility, with differing styles of glass offering a unique statement inside your home.
Classic Glass Staircases – Glassic glass staircases can add a minimalistic design statement to your hallways and home. By implementing this design to your existing staircase, an area that may typically be considered too dark is now able to flood with light. By utilising glass panels, the spaciousness of the hallway is enhanced whilst also emanating an air of sophistication with a classic and traditional aesthetic.
Contemporary Glass Staircases – Contemporary glass staircases can offer a modern and inviting touch to your home and hallway. By replacing worn-out spindles and newels in your old staircase with stunning glass, we can evoke a sense of light and space.
At Jarrods, our team of experts can utilise various techniques to craft a design that caters to your unique preferences. A number of our clients opt for a minimalistic, sleek glass style, whereas others grant us the freedom to explore more innovative and modern options. Whatever the brief, we ensure to meet it with 100% satisfaction and guarantee to create your dream new staircase come the end of the project. If you are on a restricted budget, our dedicated team will be more than happy to discuss the glass staircase cost to ensure you receive the absolute most from your money. The majority of our glass staircases are completed in as little as 24 hours.
Wood Staircases
At Jarrods, bespoke staircases are what we do best, which can include the use of wood. We take great pride in our passion for premium timber and will always source and match the type of wood best suited to your home, whether it be maple, oak or beech or walnut. All of our premium woods are utilised by our expert team to create the timber staircase or hardwood staircase of your dreams. Through carefully sourcing the wood, we can craft a one-of-a-kind staircase that seamlessly blends in with your home's aesthetic. No matter the staircase cost, we can adjust accordingly to your requirements and budget.
Classic Wooden Staircases – Our traditional wooden staircases exude elegance and are tailored to your specific needs, infusing your home with a natural warmth and grandeur. If opting for a classic elegant design with specific period features, our expert team can modify spindles and newel posts to be in line with existing furniture or furnishings, whilst also complementing the look and feel of your home.
Contemporary Wooden Staircases – Our contemporary wooden staircase designs are sleek and modern, perfect for those wanting to give their old staircase a contemporary refresh. A new staircase with a contemporary wooden design can breathe life into your entrance hall or hallway, setting the tone for the rest of your home. All of our contemporary wooden staircase designs are hand finished by our in-house French polishers with 4 coats of lacquer.
Metal Staircases
If opting for a metal staircase design or renovation, the team at Jarrods are here to help.
Classic Metal Staircases – At Jarrods our classic metal staircases can add elegance and charm to your home and hallway. Our unique metal features combined with a bespoke staircase will ensure to make your stairs the centrepiece of your home. Our wrought iron spindles are perfect for giving your home a rustic and period charm, we are able to mix these with a variety of other materials to create an original design.
Contemporary Metal Staircases – Our contemporary metal staircase designs are crafted to make a statement when paired with wood or glass. Our metal features combined with a contemporary staircase can give your home a modern finish, whether opting for highly polished stainless steel or wrought iron.
Feature Steps and Under Stair Storage Solutions
If opting for a unique touch to your staircase, feature steps and cupboards can be the perfect addition. At Jarrods, we pride ourselves on going above and beyond for every new staircase renovation. Our dedicated team are always prepared to go the extra mile and we believe the finer details can add the finishing touch when creating your dream staircase.
Feature Step – A feature step can be added to nearly all hallways, even when dealing with limited space. We can create steps in a multitude of shapes or styles, including steps which are square, curved, oval or oversized. Whether utilising the half-landing or a few steps, a feature step be will be sure to create a stunning staircase.
Under Stair Storage Solutions – The perfect accompaniment to any modern staircase renovation can often be under-stair storage. Through utilising this space you can expect the best of both worlds, a chic new staircase that also offers practicality.
Turning your existing staircase into your dream staircase
At Jarrods, bespoke staircases are what we do best, so if looking for a new staircase please contact us today. We would be happy to discuss with you any ideas you may have and give you a feel for our design process and installation. Our team of experts will also be able to answer any questions or queries you may have, such as issues surrounding building regulations.
If you have been dreaming of your new staircase but need some help achieving this, contact us today for a free no-obligation quote!