Floating Staircases
WHY CHOOSE A CANTILEVERED STAIRCASE?
A floating staircase can open up your home, let light in and create an amazing feature. This design creates a floating stair illusion, whereby the stairs appear to be floating with no visible means of support.
Creating a new staircase design within your home allows the cantilever stairs to have a certain flair and unique charm that can be restricted with a renovation project. Whether you want to provide a contrast to a rustic property or match the design of a modern self-build, our truly bespoke, floating staircases can become the focal point of your home.
At Jarrods Stairs, we aim to create light, space and scope, creating an inspiring first impression with all of our designs. Our dedicated team of skilled craftsmen and designers will work with you every step of the way to create a unique floating staircase design. We take pride in our collaborative approach when creating a floating staircase, from the initial consultation to the final installation, we will work closely with you to ensure your vision is successfully created.
WHAT IS A FLOATING STAIRCASE?
A floating staircase is a type of staircase that appears to be floating in mid-air with no visible means of support underneath the treads, creating a floating stair illusion.
This style of cantilevered stair allows for the steel skeleton and temporary balustrade to be installed very early in the new build or house renovation, sometimes before the roof, enabling safe use while construction is underway. On completion of plasterboard, skimming and decoration, we then install the solid box cantilevered treads and wrought iron or glass balustrade, which minimises damage during the build.
WHY CHOOSE A FLOATING STAIRCASE?
When deciding on the type of staircase design for your home, there can be a lot to consider. Opting for a floating staircase can offer a number of benefits versus a traditional staircase, both in terms of design and function.
If looking to best utilise your space, a floating staircase may be an option to consider. Floating staircases take up less space than traditional staircases, making them a great option for smaller homes where space may be at a premium. Floating staircases also offer an abundance of versatility. They are able to be customised and amended to suit a wide array of aesthetic preferences. Whichever design ideas you may be opting towards, floating staircases will certainly allow for it.
Floating staircases are visually striking and will certainly add a unique, eye-catching element to any home or space. Through the utilisation of open floating treads, a floating staircase can create a sense of openness and lightness throughout your hallway, often becoming the focal point of a space. Although a floating staircase may appear fragile in its design, in reality, they are designed to be structurally sound and safe. Any floating staircase design must adhere to strict safety and building regulations, ensuring protection at all times. Alongside this, a floating staircase often comes equipped with additional support such as a glass balustrade or handrail.
Enquire Now
Our Recent Work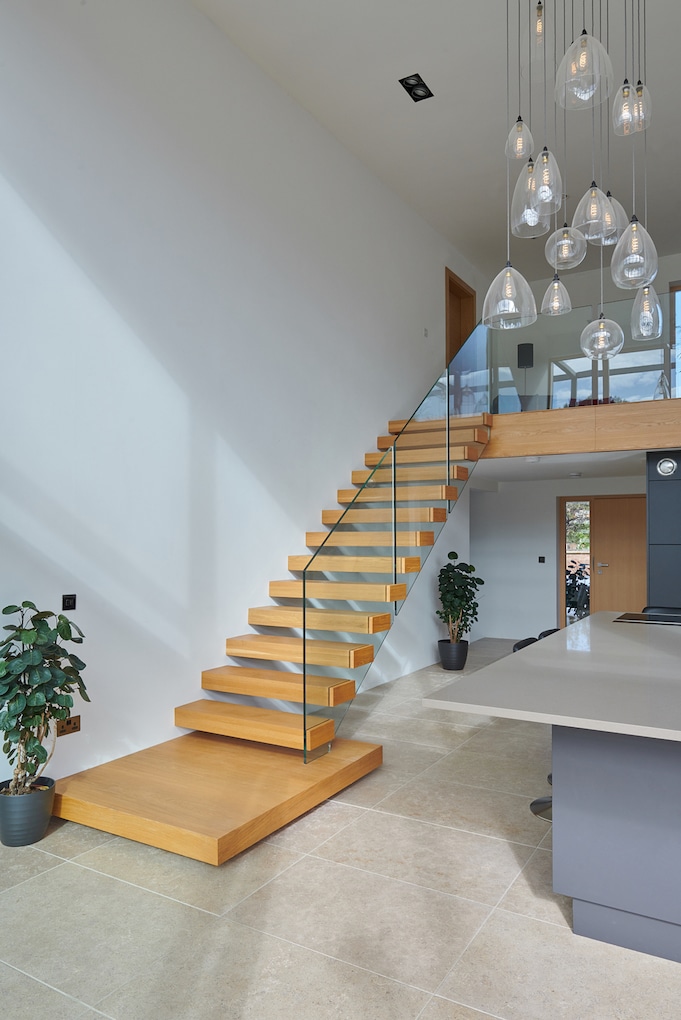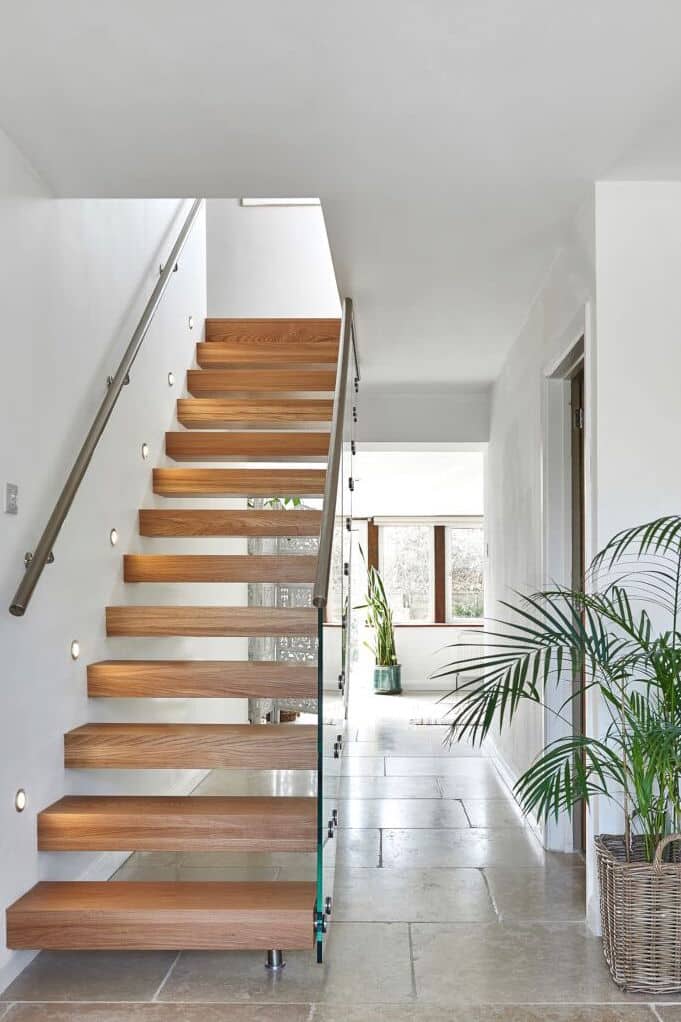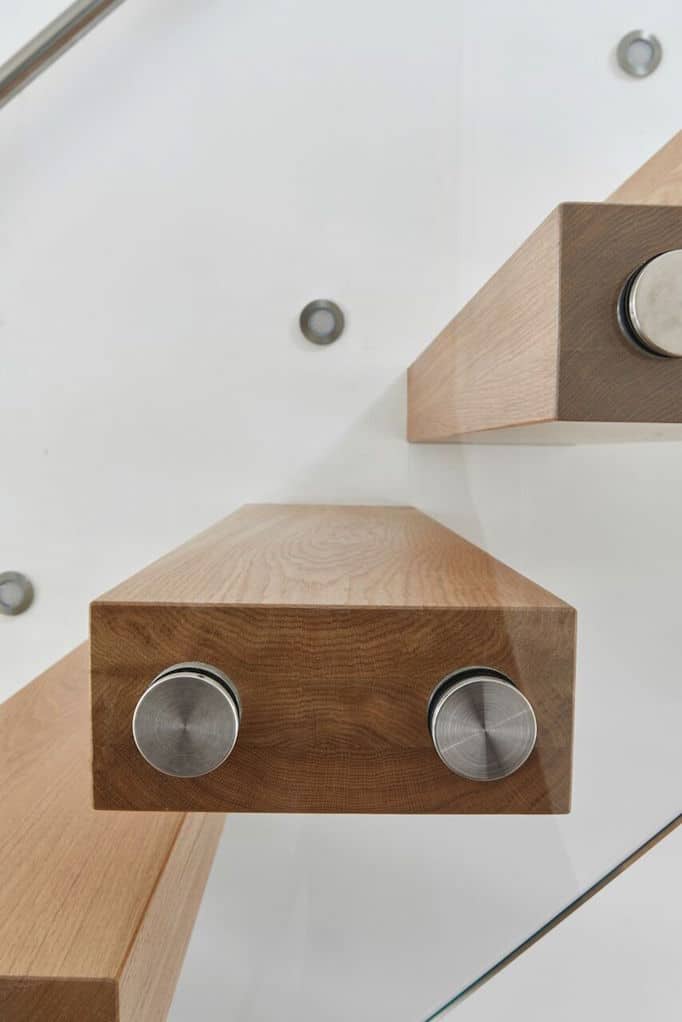 ---
Kubos as an alternative to floating stairs?
Our unique Kubos staircase design is very similar to our cantilever or floating stairs. There are a couple of main differences in the floating staircase design. One is the cost, Kubos are more economical due to the omission of structural support stainless steel set into the concrete wall. Secondly, our Kubos has no open section between the treads, but our floating staircases do. Below are a few examples of our amazing Kubos staircases.
FLOATING STAIRCASE DESIGN FREEDOM
Creating a brand new bespoke floating staircase with Jarrods gives you the freedom to design something that meets the needs of the space it features. And not just building regulations. Unlike a renovation, it allows you to control the smallest details, like gaps between the risers or using a mixture of materials. This attention to detail from top to bottom allows you to create a completely unique staircase design.
Whether you choose wood, a glass balustrade or a stainless steel metal staircase, you can mix and match staircase design styles and finishes to complement or contrast with your décor, depending on the look that you want to achieve. Due to the need to embed the supporting structure in the wall, cantilever staircases are more cost-effective when used in new-build properties or major refurbishments.
The cantilever stairs process through the stages
INNOVATION
If you want to create more natural light in your space, you can position your new staircase to do just that. Rather than walking into the house and seeing the back of a staircase, you can turn it around so that it becomes the focal point of your home. You can even move it to a completely different part of the house where there is a load-bearing wall for structural support.
A popular design choice is to choose a combination of glass and steel for the balustrade. Meaning that the stunning floating stairs effect is clearly visible and creates an impressive showpiece in the home. It is always worth discussing the options with us, so we can ensure the approach is appropriate for your needs.
We specialise in the design and installation of bespoke and modern floating stairs that have a real wow factor. Combining all the best elements of contemporary staircase design. Check out what our customers say.
Whatever design ideas you have in mind, there is plenty of scope for innovative design within our company, contact us today to speak to a member of our dedicated team of structural engineers.