Opportunities
Vacancies and job details.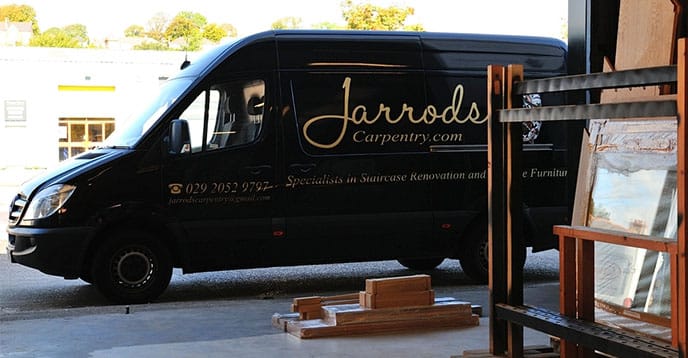 Senior Technical Designer
Who are Jarrods? 
We are looking for a Technical Designers to join our amazing team. As a family run business that has experienced substantial growth over the last few years this is a pivotal position within the Company. Our business prides itself in the individual design, creation and installation of bespoke, high quality, innovative products. Reputation in our field has powered forward over the last 12 months. With a unique culture driven by commitment to customer satisfaction and excellence we are constantly looking to push new boundaries.
A vacancy has arisen in our survey department and we now seek an experienced Technical Designer who will be based in our Barry office here in South Wales. The ideal candidate will be competent in all aspects of design within the extended joinery sector and accomplished at using a range of software packages in carrying out their day to day duties.
The role
Interact with design and survey teams to create detailed technical drawings within very tight margins that allow bespoke staircase and furniture installations to be completed on time and in line with plans to customer aspirations.
Full understanding of property construction and an ability to create, manage and oversee all technical design work in relation to bespoke creations. To innovate and support
company growth. To communicate and educate were required.
Reporting to the Managing Director with dotted line reporting to others within the team.
Responsibilities and duties.
– Promotion of Company vision, mission and values.
– Promotion of innovation and finding solutions.
– Support Research and Development of the company.
– Carry out accurate technical drawings using a variety of software.
– Carry out visuals for the design team and customers for the purpose of sales.
– Provide Technical support to all relevant individuals. Carry out Site surveys as necessary.
– Communicate with various parties to ensure they have all relevant information to meet first time accurate installation of each project.
– Liaise with a variety of outside agencies and services where relevant.
– Work to budgets and ensure the department is active in cost effective use of resources.
Personal Specification.
– Embrace the growth trajectory of the company.
– Experience of software support products such as Staircom.
– Experience of preparing technical instruction to CNC production systems.
– Experience of installation of bespoke products into new build and traditional properties.
– Work independently and as part of a wider team.
– Strong communication skills alongside high level organisational and planning skills.
– Actively seek personal development and training opportunities.
– Ability to self-evaluate and seek support when needed.
– Adhere to systems, processes and procedures,
– Take responsibility for all aspect of Health and Safety.
– Willingness to be flexible, to assist the company and meet changing demands.
– Current full driving License.
Remuneration 
Salary is £28 -38,000 (DOE) per annum. 

Company Car will be made available.

Other benefits apply.

Free Parking available at Company premises.
How to apply
To apply please submit your CV, salary details and a brief supporting statement outlining the reasons why you would like to be considered for the post and how you meet these requirements. Please email this to grahamm@businessdoctors.co.uk reference TDNOV2018
The closing date for this role is 5pm Wednesday 21st November 2018.
Jarrods Sales/Designer
We at Jarrods pride ourselves in our quality and workmanship. We are driven, creative and innovative. It is these company values that have lead to our recent success and need for expansion. We are delighted to announce that we are seeking Sales Designers who will reflect our brand values and take pride in all that they do.
This position is a commission based role with fantastic potential. If you are up for a challenge and wish to have a fulfilling occupation, then we have the perfect opportunity for you!
Please do get in touch with us if you believe this opportunity is right for you. We have availability to join our thriving team as early as Summer 2018.
We are proud of our brand and aspire to be the very best. We love what we do.
Tel: 02920529797
email: info@jarrodsstaircases.co.uk
web: www.jarrodsstaircases.co.uk
Joiner/Carpenter
We're currently looking for highly skilled joiners / carpenters to join our Leading, Innovative, National Company in the Milton Keynes, Buckinghamshire area. Our ideal candidate will fit the following description:
Highly motivated and innovative sub contracted team of two required.
Sharing company values – striving for excellence.
Professional, polite, loyal and respectful to all.
Customer focused.
Willingness to learn and develop independently.
High level of joinery skills essential.

 

Problem solving mind.
Previous experience of fitting luxury, bespoke furniture / staircases or similar essential.
Working in clients homes, installing and renovating luxury, bespoke staircases and under stair storage.
Ownership of precision high end tools essential. (Hilti, Dewalt, Festool or equivalent quality).
Company Benefits
Contract open ended. (Based on full time hours, flexibility essential.)
Liveried long wheel based Mercedes van available for rent.
To Apply 
Please contact  info@jarrodsstaircases.co.uk for further enquiries or to submit up to date CV and covering letter.
Tel: 02920 529797
web: www.jarrodsstaircases.co.uk
Our recent Houzz reviews: https://www.houzz.co.uk/browseReviews/jarrods-staircases/jarrods-staircases
Who are Jarrods? 
Vision Statement 
We seek to enrich the future of people's homes by designing and creating unique staircases, discovering new knowledge, sharing innovation and crafting steps to be as individual and as cherished as the people that stand upon them.
Mission Statement
We work in partnership with our customers to design and create luxury, tailor made staircases. Whether to renovate a tired staircase or to create a new feature statement, we provide exceptional service, limitless innovation and detail, every step of the way.
Company Values
We pride ourselves in our quality and workmanship. We are driven, creative and innovative.
We are professional, confident and focused on our customer's wishes. We deliver on promises and carry out our duties to the very best of our ability, exceeding expectation to achieve outstanding results.
We take responsibility for our individual skills and are accountable for our decisions. We work well as a team and care for each other. We are respectful to all and pride ourselves in our integrity and loyalty. 
We are proud of our brand and aspire to be the very best.
We love what we do.
Request a free quote
or consultation
Simply fill in the form below and we'll be in touch with you shortly
By submitting your details, you are happy for us to share this information with all relevant parties involved your project. As per GDPR compliance regulations
"Very pleased with the finished product and everywhere left clean and tidy! Craig was very helpful."
Margret Gould
More Testimonials
"Very pleased with the finished product and everywhere left clean and tidy! Craig was very helpful."
Margret Gould
More Testimonials
"Very pleased with the finished product and everywhere left clean and tidy! Craig was very helpful."
Margret Gould
More Testimonials
Our Designs
All our designs are completely bespoke so you can have the staircase you've alwayes imagined.
Take a look through examples of our designs below.