The Roberts-Green's Customer Story
In our latest customer story, we take a look at the modern glass staircase that we created for Nicola Roberts-Green and her family. Here's Nicola's story:
Since renovating her family home, Nicola had a vivid image of how she wanted to add the final touches to make her home everything she'd dreamed of. "We had a strong vision of what we could transform the house into with cosmetic and building renovations when we bought it," explains Nicola. "And the staircase is naturally the showpiece of the house. We wanted the space to look and feel lighter and more modern."
Bringing the vision to life
All of the wood in the house was previously mahogany so it was essential to opt for a lighter, natural oak staircase to achieve the contemporary look that Nicola envisioned. The stylish patterned wallpaper adds a decorative touch to the staircase and helps to tie in the colour scheme.
We used a modern mix of glass and natural oak with carpeted treads that sweep around the first-floor landing. This allowed us to create a contemporary style staircase with half landing. To add to the modern finish, glass is inset into the wooden staircase frame for a streamlined look. An alternative to using more traditional spindles.
An impressive result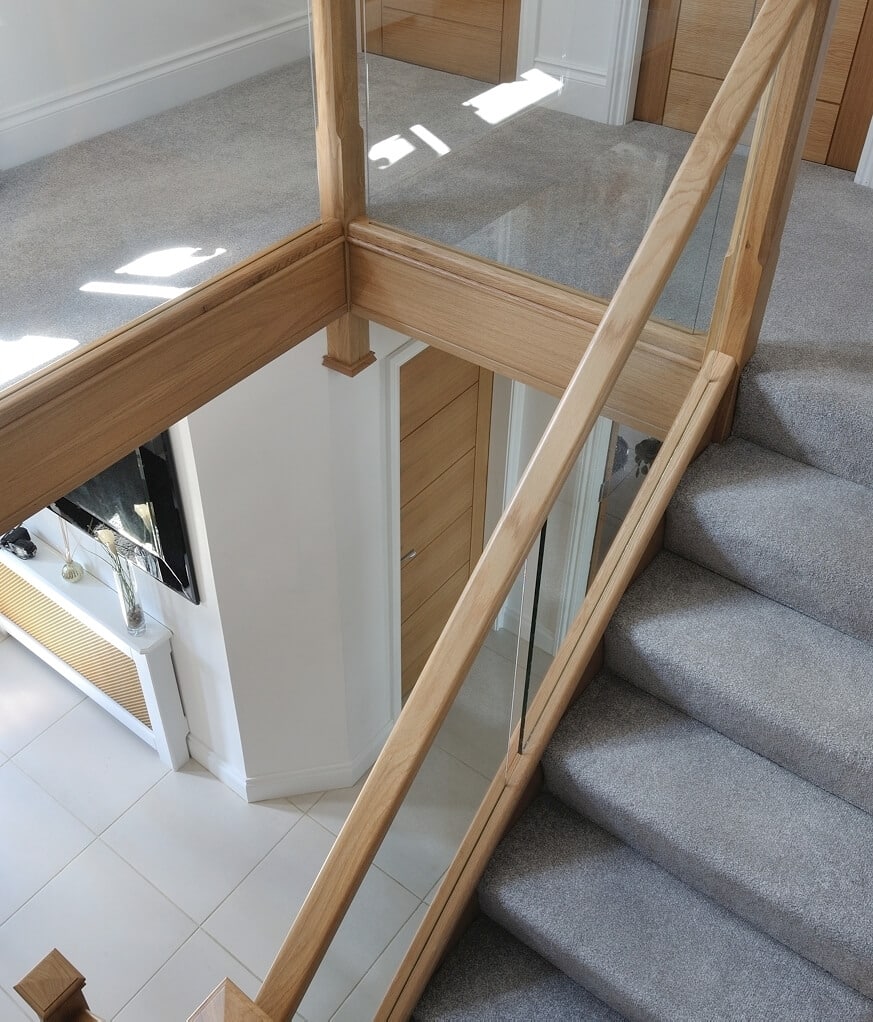 Nicola told us what she thought of the Jarrods approach. "The attention to detail and speed of installation was all part of the amazing service we had with Jarrods. We were impressed with their professionalism and cleanliness when installing the staircase. It can be a disruptive process having builders and tradesmen in but they were a fantastic team and the fitting process was so quick!"
And it seems that Nicola isn't the only one who was impressed with the final product! She told us, "Everyone keeps asking us who installed and designed it! We found Jarrods after searching on the Internet and were so delighted that they could install staircases anywhere in the UK. Now we're recommending them to our friends and family who love our new staircase."
If you want to feature in our next Customer Story, get in touch today.