More than a store
There was a time when that space under your staircase had two purposes, either it was left open and used as a dumping ground for coats, shoes, the dogs lead and whatever else you threw off yourself when you came through the front door. Or, It was fitted with shelves or a cupboard door and you still kept it full of coats and boots, only this time they were slightly more organised, or shut away out of sight.

Here at Jarrods, we're passionate not only about our bespoke, luxury staircases but about the space underneath them. We call it the 'stairspace' and while our specialist teams can create the most beautiful, versatile and hard wearing storage units, made bespoke to match your brand new staircase, our latest blog looks at why stairspaces have design potential beyond simply storage.
Time to Wine down
Avid blog readers will remember our post 'From Staircase to Festive Stairspace' which featured mock-up images drawn by Hannah, our junior technical designer. Hannah had designed a collection of unique under stair ideas including this home bar unit! A sure fire conversation starter, this grand space would be the perfect space to entertain.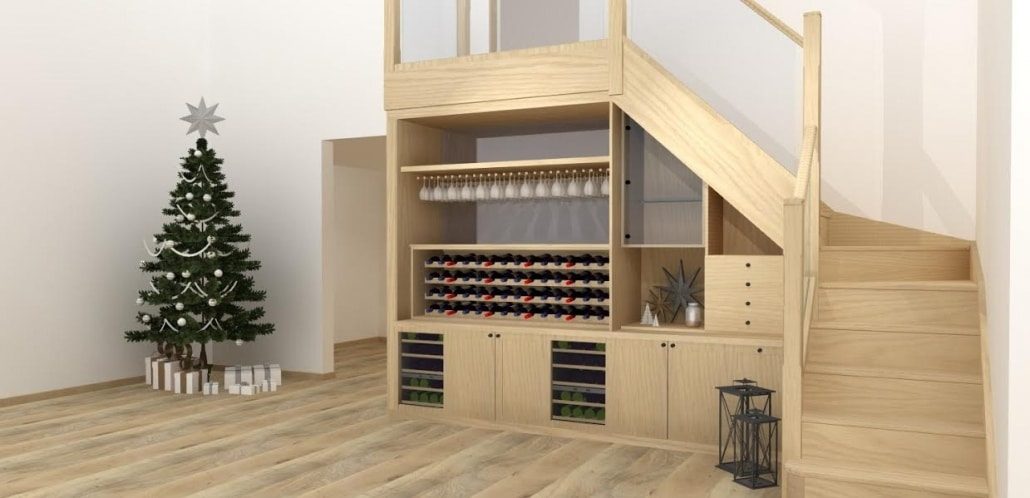 For those still looking for the wine cellar wow-factor, in a more modest setting, these previous Jarrods staircases might be just the thing to inspire, like these Jarrods staircases we fitted for the Armstrong and Hopper family.
The Paw-fect hideaway
Last year we were so excited to design a three story turning staircase for the King family who had designed their brand new home from the foundations up. They wanted the under-stair compartment of their new structure to act as a little snug for their favourite furry friend, their cat, Stevie!
Get cosy
If curling up with a good book is more your thing, picture yourself snuggled up in one of these cosy custom nooks. Did you know, we can colour match your new staircase and furniture to any existing wood you have in your hallways, be that floors or door. Your new nook would look like it had always been part of your home!
For more under-stair inspiration, click here to see our Pinterest board where we've curated some of our favourites.