And the winner is…
Back in December 2019 we hosted our first company AGM. We pulled all the teams together from across the UK and spent the day reflecting on 2019 and planning our 2020, which is set to be our biggest year yet! We couldn't mark another year in business without acknowledging our amazing staff so the 'Jarrods Awards' were devised – like a cross between the Oscars and the Baftas, but with more joinery!
We wanted to shine a spotlight on their achievements, so in no particular order, here are our Jarrods award winners.
RISING STAR
Awards went to Tony Raynolds and Hannah Foat from our technical drawing team.
DESIGNER OF THE YEAR
Paul Carew picked up our designer of the year award after a selling some amazing staircases.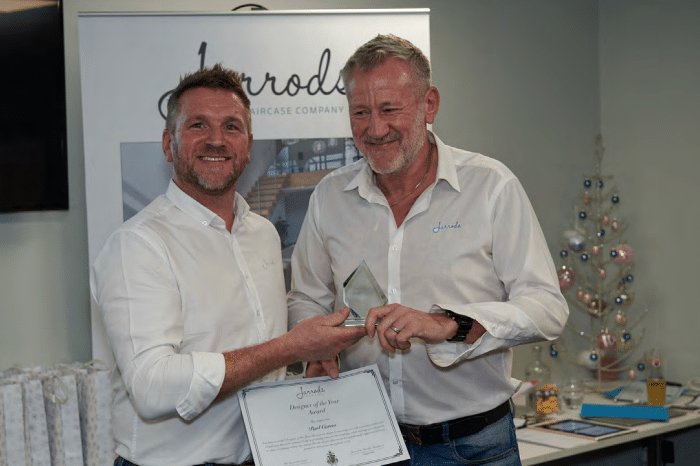 HIGHEST LEADS CONVERTOR OF THE YEAR
Congratulations to Martin Jones who converted most leads to sales this year!
FITTER OF THE YEAR
Whilst all our fitters go above and beyond to represent Jarrods and fit our amazing staircases, Adam Gregory was most deserving of this award for all that he does day in day out.
BEST TEAM
Our brilliant workshop team picked up the award which as collected by managers Kristian and Vinny! 2019 tested the workshops but their resilience and 'roll up your sleeves and get it done' atttiude had to be commended.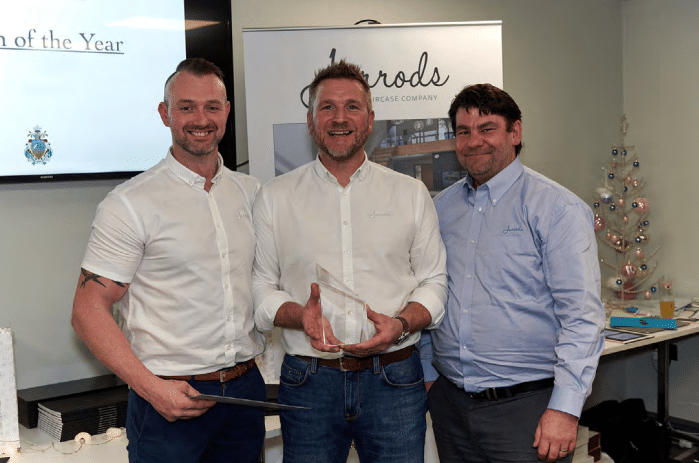 EMPLOYEE OF THE YEAR
As owners Jarrod and Sherelle's right hand man and all-round superstar it was only right that Paul Hanson picked up the Employee of the year award!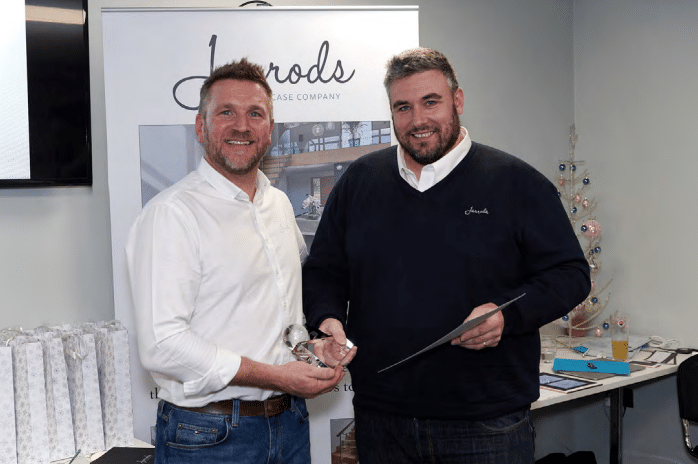 ABOVE AND BEYOND as voted for by the owners
Awards went to Owain Cadman and Kristian Davies from the warehouse who really did go above and beyond in 2019.
ABOVE AND BEYOND as vote for by the the staff
And last but not least, Vinny McGrath and Paul Hanson both picked up the award with an equal number of votes! I guess the trophy will be spending half its time in South Wales and the other half up in Manchester!
Congratulations
A huge congratulations to everyone who picked up awards and a special thanks to every single member of the team who put so much passion and energy into their work last year. We can't wait to drive forward through 2020, with our ever expanding team! It will be interesting to see how many more are added to our team photos this December!