Mrs. Judd's Customer Story 
Our latest customer story takes a look at how we created a light and airy hallway for Mrs Judd with a modern staircase made out of glass and modern wood. Here's her story.
Vicky Judd originally wanted to replace the old spindles in her staircase but when she saw some of our work, she decided to create an entirely new staircase with wood and glass to modernise her home and maximise natural light.
When thinking back to the early stages, Vicky comments, "we were going to replace the spindles but we couldn't find any that matched so we started researching staircases online; that's when we found Jarrods. Once we started looking at new designs we decided to move completely away from spindles and go for a much more contemporary look."
Light and airy
In order to achieve a more contemporary look, our designers worked with Vicky to find the best solution to suit her needs. "We opted for wood, as we didn't want to have to keep repainting the posts with small children," explains Vicky. "We also wanted to let as much light into the property as possible so we opted for glass to bounce light around the space and be visually much lighter on the eye."
The small things
Aside from getting the staircase of her dreams, Vicky was also impressed with the Jarrods' approach commenting that, "the whole staircase took just two days to complete! There was minimal disruption, which was fantastic as we have two small children."
Standing out from the crowd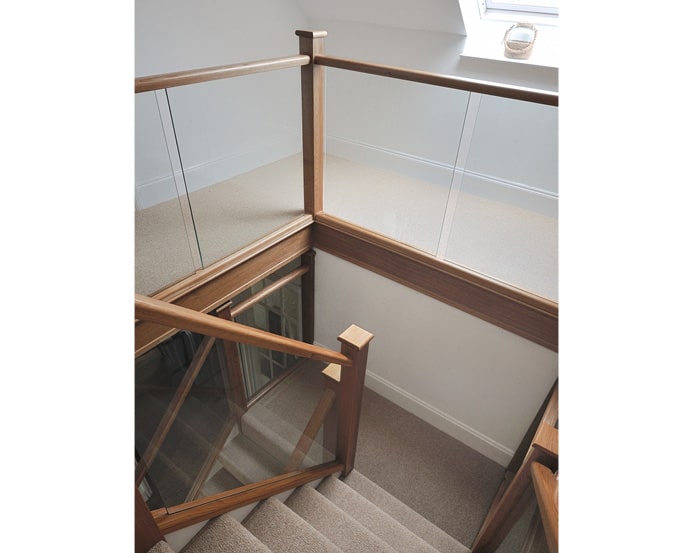 Whilst she was looking for inspiration, Vicky approached other companies to discuss her options. "We saw a few staircase companies that came to quote but Jarrods stood out from the rest. We would wholeheartedly recommend them again."
We're very proud of our tailored approach at Jarrods, and Vicky was equally impressed. "The designer was personable and instantly put us at ease. Jarrods' customer service was excellent; nothing was too much trouble for them and they really understood what we wanted. We discussed at length the options of going for inline or bracketed glass – every detail was important."
If you'd like to feature in our Customer Stories, get in touch today.