Mr. & Mrs. Baker's Customer Story
When Jason and Liz Baker wanted a bespoke staircase that could be the focal point of their home, they came to us. Here's their customer story.
Jason and Liz wanted a modern staircase with clean lines to complement their open plan living space. Their home was previously a 1960's bungalow so installing stairs were going to be an entirely new addition to the building.
Modern & minimalistic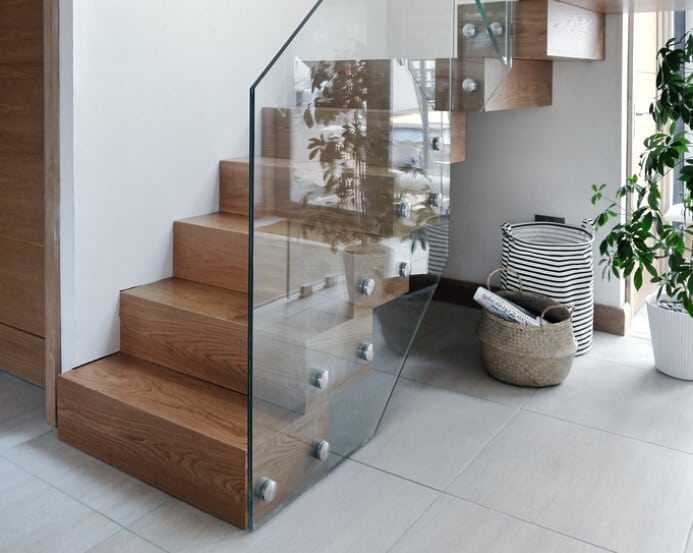 Jason and Liz knew exactly what they wanted and our design team was able to truly capture that.
"The Jarrods designer that we worked with planned the design based on what we'd initially liked from the website. It was essentially a straight set of stairs but we knew we wanted this to incorporate a small half-landing that was in keeping with the design of the house."
Bringing the design to life
We worked closely with the Bakers to design the staircase of their dreams out of oak and glass. It took a while for the Bakers to find what they were looking for, but then they found us. "We found Jarrods having searched online for 'bespoke staircases'. We saw photos of their completed staircases on the website and instantly knew that was how we wanted our staircase to look."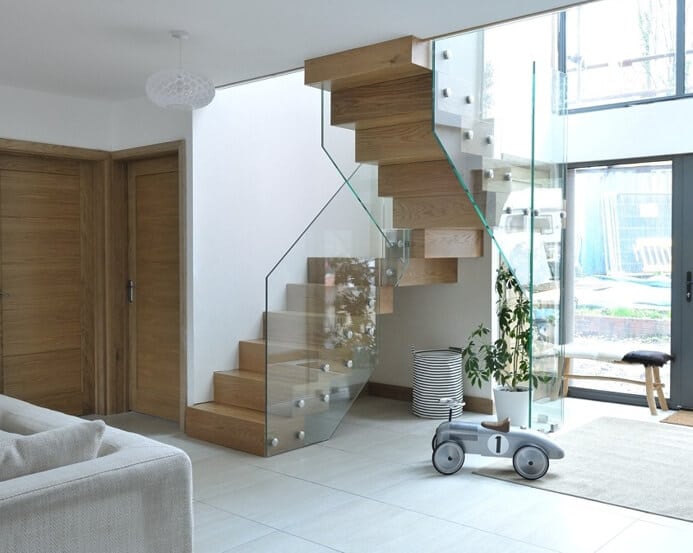 Jason and Liz have two young children so we needed to take this into account when designing their staircase. We used both oak and glass to mirror the modern style of the property. The staircase remains relatively open but the transparent glass panels add an extra safety factor for the children without detracting from the openness of the design.
Fast & friendly
  
When we asked Mr & Mrs Baker if they were happy with the service we provided, they were very complimentary.
"We couldn't believe that Jarrods installed the staircase in just 1.5 days! They delivered exactly what they said they would and we cannot recommend them enough!"
As if their words hadn't already been kind enough, the Bakers went on to say, "when Jarrods visited our house we immediately found them so approachable and the after sales team has been amazing; the customer service truly is incredible."
---
If you want to see yourself in our customer story section, get in touch to find out more about our bespoke staircases.