Mr & Mrs Bird's Customer Story
One of the nicest parts of our job is meeting people who have a clear idea of what they want when it comes to a modern staircase and helping them to create it.
We're going to share how we've achieved this in our series of Customer Stories blogs. First up are Daphne and Paul Bird who live with their two dogs, Frankie, a standard poodle, and Mushka, a Finnish Laphund.
Here's how we helped them make their dream become a reality.
Blurring boundaries
We were glad to hear that Daphne and Paul had a picture in their heads of their perfect bespoke staircase.
They wanted something that blurred the boundaries between classic and contemporary, so we used a mix of natural oak, stainless steel and smoked glass to bring their dream to life.
Daphne and Paul's previous staircase was open tread and originally installed when the house was first built in the 1970's. "The side wasn't closed in either," explains Daphne who knew from the outset that she wanted to bring the staircase into the 21st Century with a modern, smoked glass finish.
"I loved the idea of a stainless steel handrail that was seamlessly attached to the glass without clips," she explains. "And this was one of the deciding factors when choosing Jarrods to complete the work.
No other company seemed to be able to offer this design feature for us but I knew it was possible. The designer and specifier from Jarrods even brought a sample with him on the first design visit, which impressed us. It showed that Jarrods listened to what we wanted from the beginning."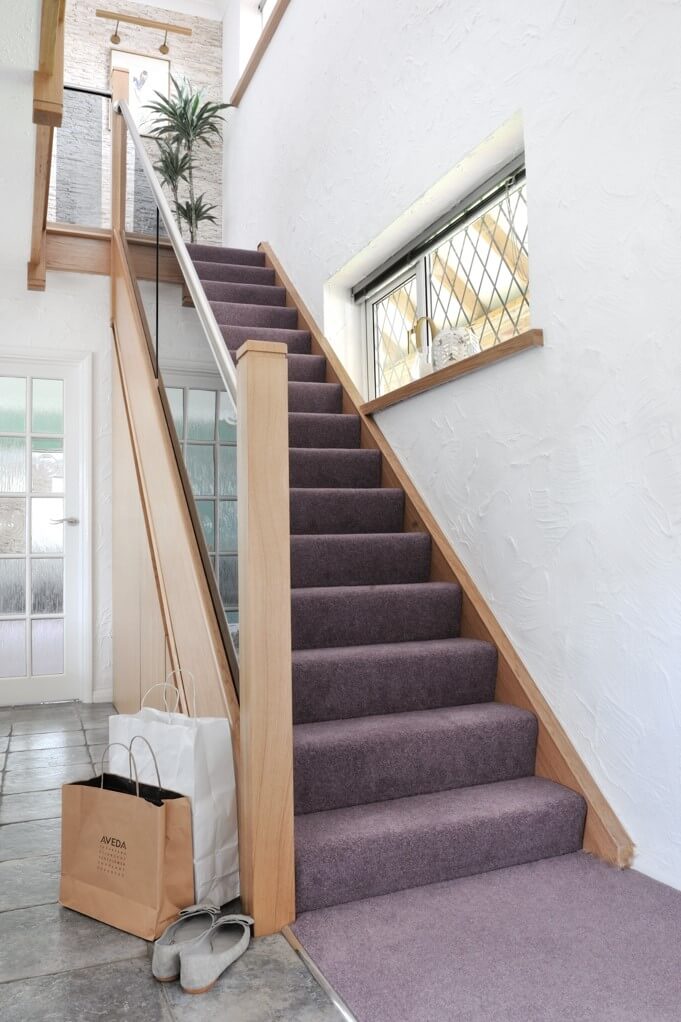 Avoiding a void & adding some storage
Although the Birds knew they wanted smoked glass and stainless steel finishing, they were unsure whether to leave a void under the stairs or opt for a built-in. staircase. "We chatted this through during the design process. When we saw the option of having built-in cupboards stretching the length of the staircase we loved it and it was 'decision made'. We now store our wine in the cupboards as well as dog walking coats, wellies, etc. It's so useful and keeps the house neat and tidy."
A stress-free installation
During the installation we took the usual Jarrods Approach and made as little impact on the Birds' day-to-day life as possible. Daphne was more than happy with the whole process, "Jarrods were friendly and professional, which is a perfect combination when you have people – whether that's the designers or installers – in your home for a number of days. We were given the technical drawings, the pricing was fair and the entire staircase took only two days to install!"
Daphne explains how it was made safe overnight on the first day of installation so that there was no added inconvenience or need to move out whilst the work was completed.
Some final thoughts
It was a pleasure to be able to give Daphne and Paul precisely what they wanted, and they both had some very kind words to say about the project.
"Jarrods stand out on two points: their flexibility and personal service. They stood head and shoulders above their competition and were a delight to deal with. A job that could have taken weeks, and not been entirely what we wanted, happened quickly, professionally and without fuss. And it was exactly what we'd always hoped for!
"We found Jarrods online and, while they weren't local to us, distance wasn't an issue. The service we had from day one was miles ahead of any other company. The installation team were punctual and worked tirelessly to complete the job speedily. We were hugely impressed and wouldn't hesitate to recommend to anybody!"
Thanks Daphne and Paul, we're blushing now!
If you'd like to become part of a customer story, get in touch with us today.