The Jones' Customer Story
In our latest customer story, we take a look at the minimalistic glass staircase that we created for Jill and Wayne Jones. Here's their story:
Mr. and Mrs. Jones wanted a modern staircase that would complement the minimalistic interior of their home. After considering the modern design and decor of their home, we decided to use glass with LED light strips to create the illusion of extra space and light.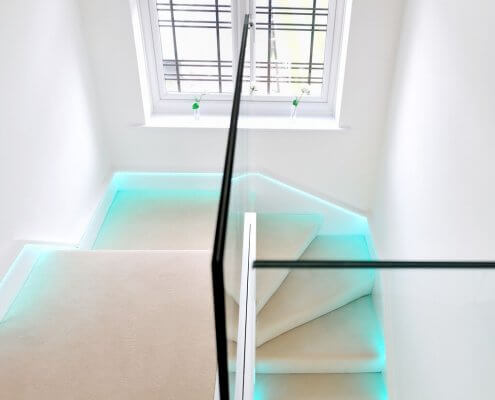 Maximising space with minimalistic design
The staircase uses minimalistic glass panels to form the balustrade, combined with subtle LED light strips that run the length of the staircase. The coloured LED lights are a striking feature of the design, but the staircase blends seamlessly with the modern decor of the hallway.
Casting her mind back to the thought process behind the design, Mrs. Jones says, "We knew exactly what we wanted when it came to replacing our staircase. We love minimal design and I didn't want the staircase to detract from the space. A simple glass design was perfect for the look and feel of our home, which is all white with pared-back interiors and clutter-free styling."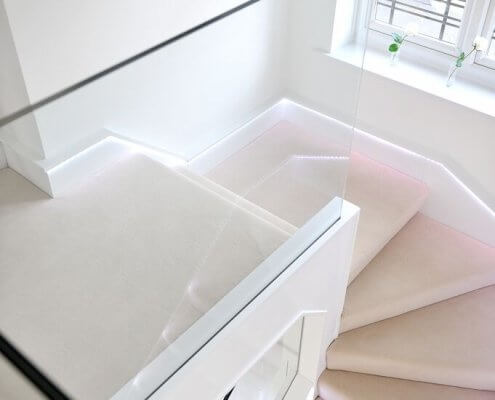 The LED light strips add a designer touch to the space at both day and night time. The lights are one of the major design highlights of the staircase, so it was important that the rest of the space remained clean and void of colour to enable the lights to provide the main feature and focal point. "We'd already had LED lighting installed in our kitchen so this is where the idea stemmed from," Mrs. Jones explained. "We knew how good it looked and wanted to replicate this wow factor with our new staircase."
Understanding and unfazed
Although Mr. and Mrs. Jones knew what they wanted, they struggled to find a staircase designer that shared their vision. Mrs Jones commented, "When we invited various companies to quote for the design work Jarrods understood exactly what we were after. Working on a design brief that stepped outside of their usual remit didn't faze them and we were encouraged by their enthusiasm for it. They stopped at nothing to make it work for us."
At Jarrods, we pride ourselves on our unique approach so we were delighted to know that the Jones family was happy with our service. They commented, "We were more than impressed with Jarrods' fantastic attention to detail!"
If you want to feature in our next customer story, get in touch today.