Our Happy Customers
Here are some of the things that our customers have said about us;
Request a free quote
or consultation
Simply fill in the form below and we'll be in touch with you shortly
We treat your data with the utmost respect, you can find more information on how we use your data in our privacy policy.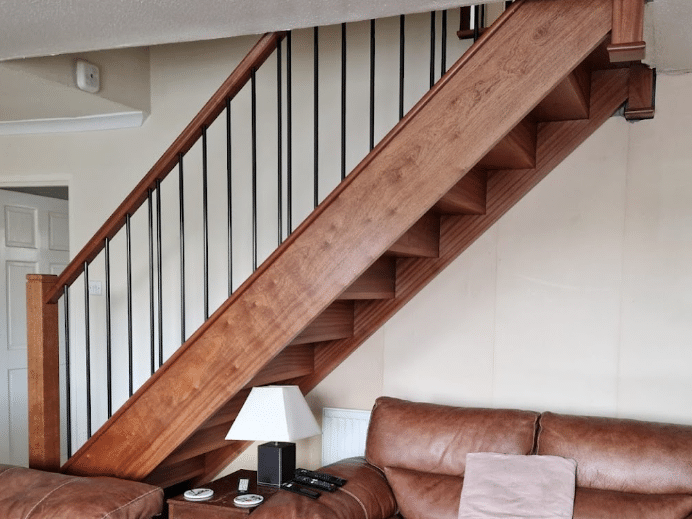 The installation of our beautiful new staircase was just completed a couple of days ago and we can't get over how gorgeous they are. We wanted something a bit different than what we could find 'off the rail' and found Jarrods online. The initial consultation with Greg was brilliant and he helped us to design the perfect staircase to fit the design we had in mind as well as create a showpiece for our living room. We couldn't be happier with not only the staircase but the entire process as well. The team of Greg, Neil, Simon, Anna, Claire, Adam, Tom and Lu took the absolute best care of us. We couldn't have asked for better. Thank you Jarrods!!
Mr & Mrs Evans
August 2023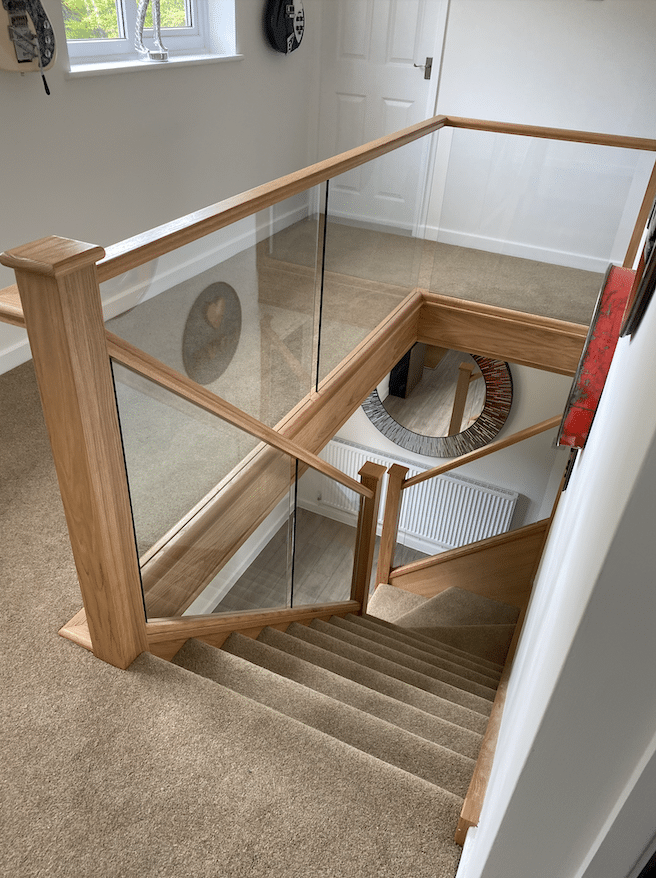 We recently refurbished our home and replaced a bland 80's plank style staircase with a beautiful oak and glass staircase from the team at Jarrods. Right from the design phase, through the survey and final installation, the Jarrods team have made things very easy, enjoyable and have provided a very professional service. The after sales support and project management has been amazing and the installation team were real craftsmen that did a wonderful job and were fun to work with. The final installation has transformed the internal appearance of our home and all of our friends and neighbours have said the same. We now have a very modern and contemporary staircase that has created a very open, light and easy on the eye environment for us – exactly what we wanted. We also loved the way the designer introduced some innovations like 'all glass' corners, which avoided the need for corner posts to make things more open and a feature step. The removal of the old staircase and installation was also fully completed in less than a week, with all waste being removed and our home being left clean and tidy. These also helped reduce costs so that we had a cost effective solution that was much appreciated. All-n-all a first class experience with a 5 star service. We would highly recommend Jarrods expert staircase team to anybody considering a new staircase.
Frank & Linda Rodriguez
July 2023
Absolutely delighted with our new staircase. Our high expectations were met and beyond. Professionalism at its best from the first enquiry to the end product. Our fitter, Adam, was brilliant and couldn't have done anymore to be helpful – an absolute star ⭐️. I would recommend Jarrods without reservation.
Linda Hall
March 2023
An excellent service from start to finish, two full days work saw the removal of the old staircase and installation of the new stainless steel, glass and oak staircase that has transformed the look of our hall and stairs. Very tidy and considerate fitters made it a pleasure to deal with Jarrods who went the extra mile to provide and manage a great product installation.
Ian Smith
Leeds, March 2018
We had fully expected the refurbishment of our staircase to make a difference but even our high expectations were outstripped. We are absolutely delighted with the finished project and, now that it has been carpeted, it is undoubtedly the centre of attention in our home. As the original staircase was installed in 1969 we had expected (and were pre-advised) that remedial work to the walls etc would be necessary. Although this was the case, the remedial work took me only 1 hour to complete – a testament to the professionalism of Andrew and Liam's work. I have no hesitation in recommending Jarrods to others – their communication is outstanding and their product superb!!
Graham Seymour
Abingdon, February 2018
We would like to say that we are very pleased with the results. You and your staff are to be congratulated on the professionalism showed during the installation and your site team proved a great asset to your company.
Jarrods has demonstrated to be an excellent choice of company to upgrade our staircase.
Your company was very attentive to our wishes throughout the process, with numerous phone calls to assure us everything was on track.
Your quotation and ordering system was thoroughly carried out by a site visit of your sales rep and then a couple of weeks later your surveyor visited to take the exact measurements for the installation and he was able to agree any late or minor alterations to the specification.
The installation was completed in 1 day, rather than the two days expected, as the lead carpenter was joined by a colleague and this speeded up the process of installation. Your team were extremely capable and they left our house in an orderly state and mess was minimised throughout the installation.
The upgraded staircase looked just like one the photographs in your brochure.
We would recommend Jarrods to anyone wanting to modernise their staircase – your company did an excellent job and it looks great.
Best regards
Lynda Emmerson and Rod Parker
Lynda Emmerson and Rod Parker
Hemel Hempstead, April 2017
I am writing to say how pleased we are with the service we have received from Jarrod's. Your fitters, Nick and his apprentice Matt have done a really fantastic job and we'd be grateful if you would pass on our sincere thanks to them both. Their workmanship is first class and their attitude, timekeeping and general friendliness made it a pleasure to have them around. They worked incredibly hard over the two days they were here, often re-doing certain tasks until they were completely happy with their work. Moreover, upon completion of the job they were in no hurry to leave until we were completely satisfied with the finished product.  We were also very happy with your salesman John Dowle and your surveyor Paul Hanson. We particularly liked John's warm and friendly personality and his honesty and the fact that he took a lot of time to understand what we were looking for. The best thing we liked about John was the fact that he offered ideas and suggestions without being "pushy" about them. John certainly secured the job for you. Paul was excellent value in that he went to some length to explain technical issues and areas which we would need to address upon completion of the work e.g decoration touch ups and he also described how the fitters would tackle various aspects of the work.
In summary, were felt very comfortable with every aspect of the project from beginning to end and we are very happy with the end result. Our grateful thanks to John, Paul, Nick and Matt.
Terry Brignall, Wing Commander RAF (Retd) MBE
Cambridgeshire, December 2016
Our stairs were completed on Thursday ahead of time, I was out all day and left before Craig and Baz arrived, it was a lovely surprise to walk in an see it for the first time – I was blown away as it was much better than I think I had expected.  Those cranky old under-stairs doors gone!!  (Yipeeeee)
Please thank Craig and Baz for me, they did a superb job and are very efficient at what they do, I understand that Baz was the apprentice, and he completed his first newel post on our job – tell him well done, it is a professional job and Craig must be a great teacher.  Even with my husband winding them up at times……….
Many thanks to you all once again.  You are a great team!!
Yvonne Campbell
London, March 2016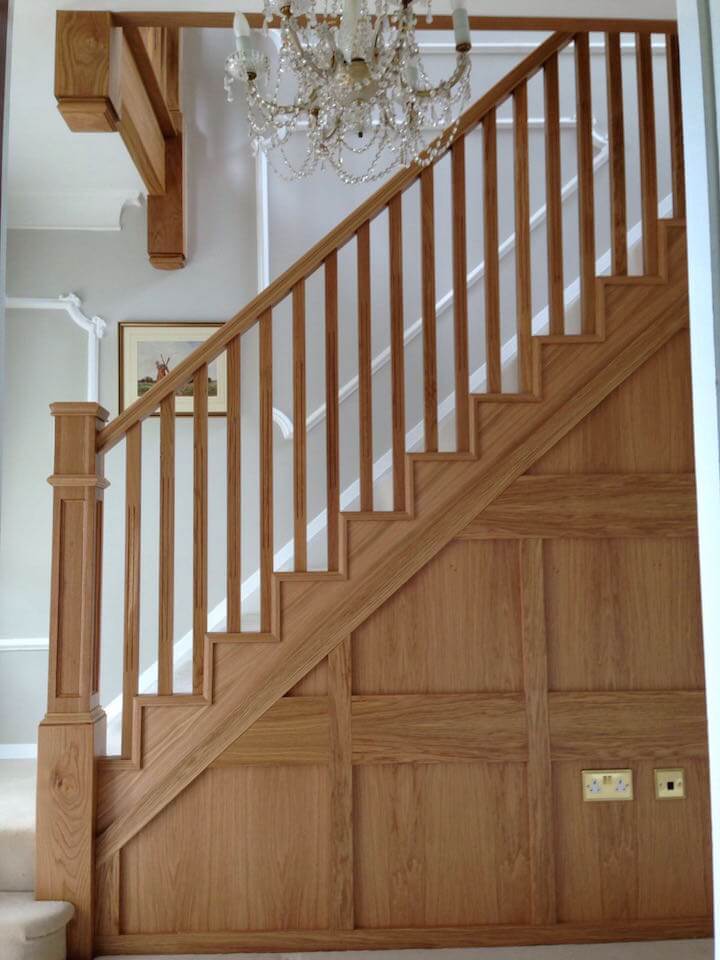 After looking at a number of websites of companies advertising staircase renovations, we chose yourselves. You appeared to be a company that offered a more personal service. From that point, sales and surveyor (Roger and Paul) and the two lads that carried out the work, it was a nice experience to work with people that were interested in what we wanted to achieve.
We agreed for the work to be carried out and a start date for them to start. The two guys, Nick and Craig arrived with us early morning, within the hour they had set up all their machines and work began.
The men worked long hours, always cleaned up at the end of the day, even putting their cups back in the kitchen before leaving. By the end of day three they were saying their goodbyes and we were looking at a lovely new staircase!
Please thank your team for doing a great job, taking the time and interest in making sure we were happy with the finished job.
Mr and Mrs Stupple
Hythe, February 2016
Thank you so much for transforming the entrance to our house by the renovation of our staircase.
Nick, Craig and Bas were excellent. They showed true professionalism – they were organised, very hard-working, showed ingenuity when problems arose, patience with my many queries and perseverance. They were always polite and cheerful despite the fact it rained almost all the two days they were with us. They used their gazebo in the drive for all the cutting work, minimising the mess, but in any case they regularly tidied up as well as at the end. They clearly enjoyed their work and took pride in what they do. This reflects very well on the firm's ethos.
We decided to go to Jarrod's, not only because we knew they would renovate the staircase very well, but also because they agreed to mend the 90 year old stairs, making them safe, and make the access to the under stair space much better with stylish doors as well.
The staircase itself is of high quality and truly beautiful, as good as we might possibly have hoped. It has created light in the hall and landing, reflecting the clean lines but warm style we are trying to achieve in the house. We can hardly wait until we get a new carpet! Although the under stair cupboard gave a few problems, they were resolved and we also now feel much safer walking up and down stairs.
It has been a pleasure to work with the whole team, in part because of their emphasis on customer service and good communication: from Roger at the start, to Paul and then the team, to Pauline and Jarrod himself at the end. I would fully recommend Jarrod's. If you are prepared to pay the premium for quality, you will be delighted with the result!
Chris and Angela Barwell
Warlingham, September 2015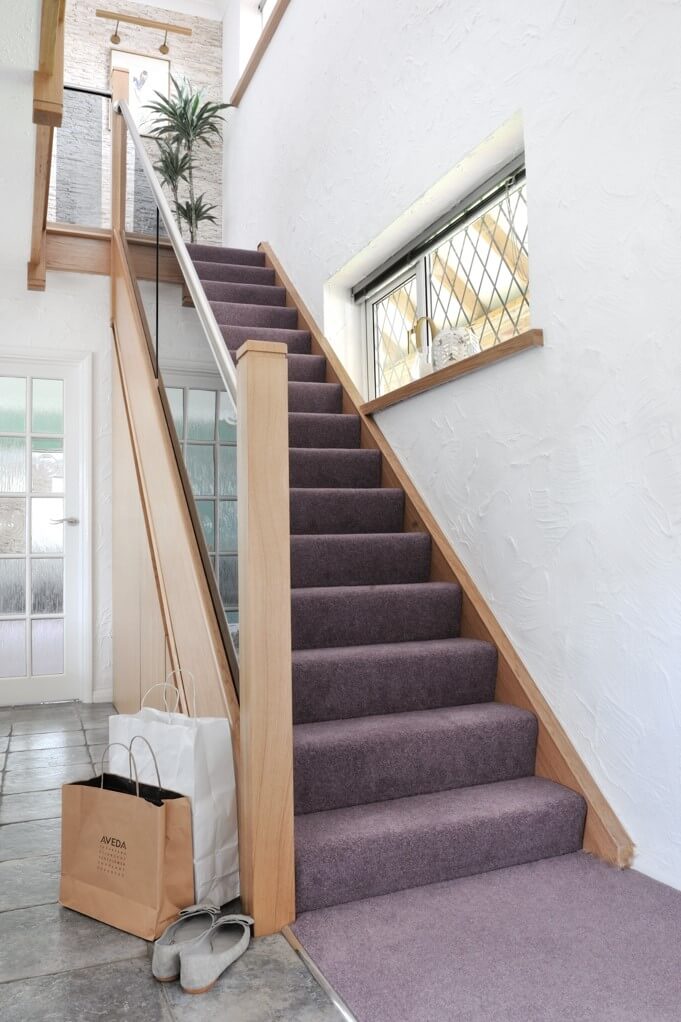 Jarrods were friendly and professional which is a perfect combination when you have people – whether that is the designers or installers – in your home for a number of days. We were given the technical drawings, the pricing was fair and the entire staircase took only two days to install.
Jarrods stand out on two points: their flexible and personal service. They stood out clearly from the competition and were a delight to use. A job that could have taken weeks, and not been entirely what we wanted, happened quickly, professionally and without fuss. The installation team were punctual and worked tirelessly to complete the job speedily. We were hugely impressed!
We wouldn't hesitate to recommend Jarrods to anybody. We might have found them via an online search (and at that, they were not local) but distance wasn't an issue and the service we had from day one stood out a mile from any other company.
Mr and Mrs Bird
Chertsey, September 2015
Our wooden staircase is now complete. Nick and Craig our installers were prompt, professional and a pleasure to have working in our home. They worked extremely hard, often til 6.45 in the evening. Their attention to detail was exemplary.
Paul (Surveyor), must get a mention for sticking with my mad desire to have unique  black wrought iron spindles on the landing that had to come from France! He kept us informed of progress all the way until we finally managed to locate them and wow am I pleased with the end result!
Jarrod himself rang to check that all was going as planned, and customer service has been without fault from start to finish.
In conclusion, did I get what I wanted rather than something that the company wanted me to have?…Yes!
Did the completed project meet my expectations?…Yes, without doubt!
Standard of workmanship and quality of goods?…Excellent!
Time taken for the project to be completed?… Two and a half days, no complaint at that.
You may find cheaper, yes, but having researched many and spoken to some, I would have no hesitation in using Jarrods again or recommending them to friends. It is true, you get what you pay for. This company is mindful and respectful that a project like this is a major undertaking for a homeowner and this is reflected in it's service and product.
Hilary Marck
South wood ham ferrers, January 2015
The recent glass and light oak renovation to our balustrades and banisters has brought our hall and landing from looking very dated (1960's build), bang into the 21st century at a stroke. It has added a real wow factor to our hall and made it much lighter and brighter.
Nick and Craig are not only real craftsmen, they are also courteous, punctual, extremely hard working and a pleasure to have in your home. Please pass on our pleasure and thanks to them both for a first class job. We will have absolutely no hesitation in recommending Jarrods to other people because of your professionalism, attention to detail and commitment to customer satisfaction.
Sandra & Roger Silvester
Lingfield, January 2015
The design Jarrods came up with enables us to make the space a new room, despite being a hallway.
John Sadler was very professional and passionate about the quality of workmanship. He made us feel like it was a really exciting big decision and that we needed to get it right so mustn't rush our decision. He showed us lots of styles then supported us when we opted for a bespoke design to fit in with our home.
Jarrods are as excited as we are with our new staircase and take genuine ownership to get it right.
The end result oozes a quality finish!
Mr & Mrs Doble
Cowbridge, December 2014
When it came to finding the right company to install our new staircase, Jarrod's stood out from the rest. Not only was their design service and customer care excellent, but they were able to complete the design we wanted, whereas the other companies said they couldn't do it. Jarrods ensure that you get the staircase you want rather than a standard model. The design service is so personal.
Mr & Mrs Cox
Hartney Witney, November 2014